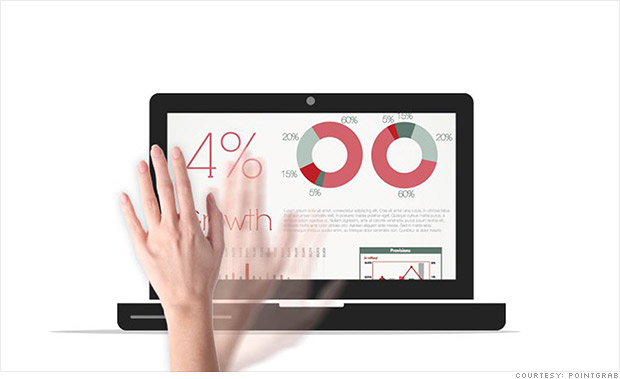 PointGrab lets you ditch the mouse and the remote, with gesture recognition software that lets users control any device with a camera.
Say you're watching a movie on your laptop. You can raise your hand and close it in a fist to pause, or move your hand in a "go ahead" motion to swipe through your movie titles. If you're looking at a map on your tablet, you can pinch your fingers together to zoom in on it.
PointGrab licenses its software to different device manufacturers, who decide which gestures perform which actions, VP of product Assaf Gad told CNNMoney. That means some could opt to include two-hand gestures, or let you create your own.
The Israeli startup scored a recent coup: At this year's Consumer Electronics Show (CES), PointGrab announced it will power the new line of Samsung Smart TVs. Previous product announcements include PointGrab on Acer and Fujitsu devices running Windows 8. The software works on Windows, Linux and Android.
http://money.cnn.com/gallery/technology/innovation/2013/01/28/mouseless-computing/5.html
---